Emery, Wins City Basketball Championship.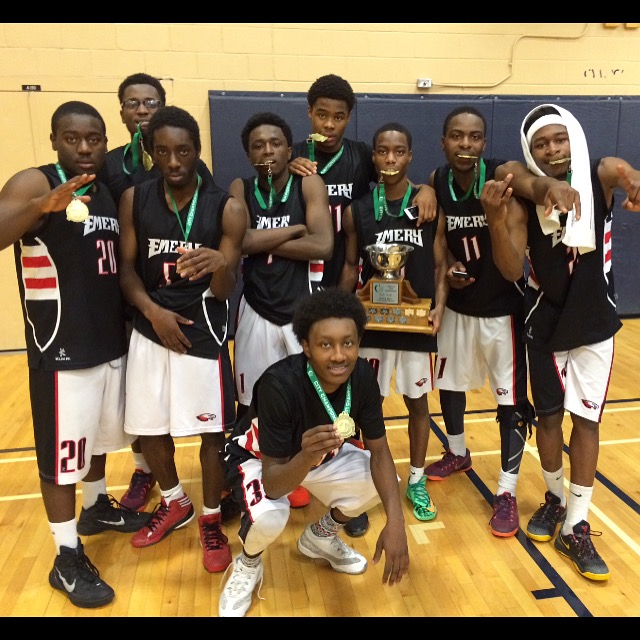 Emery Eagles Senior Boys' Basketball team celebrate after winning City Championships.
By: Deserae Fulcott  and Kainat Hameed (Emery Students)On February 24, 2016 Emery Collegiate Institute's Senior Boys' Basketball team qualified for the Ontario Federation of School Athletic Association quarter finals (OFSAA) after winning the City Championships at Humber College. In a keenly contested game, Emery beat Birchmount Park Collegiate Institute 58 to 39.The Emery Eagles got off to an early lead and maintained their advantage throughout the game.From the start, Emery dominated the game, they scored basket after basket and netted two and three pointers. They snared rebound after rebound. At halftime Emery was leading by 9 points. The score was 28 to 19. The Eagles were at the top of their game with sharp offensive and defensive plays. They stopped Birchmount's shooters and did not let up until the final whistle.This was an experience the Emery players will not soon forget. "This was an amazing game.  I'm in grade twelve, so this is my last year playing for Emery Eagles. I will remember this game for the rest of my life. When I'm thirty I will still remember the thrill of winning," said Hassan Adenola, one of the co-captains of the Emery Eagles. Dante Stoddart was the other captain.The team played with confidence and skill."We dominated them," said Hassan as he tried to find words to convey his excitement.Hassan Adenola, who led the scoring with 22 points, was declared most valuable player of the game.Bob Maydo, Emery's veteran basketball coach, was pleased with the performance of the team. "The game was fantastic. The guys played well and made us all proud. The best part was the celebration after we won," he said.Maydo credits the win to his team's hard work and dedication. "Practices were the reason this team won," he said.Practices were held after-school, five times a week from 3:15pm to 5:00 pm. In the beginning of the season the practices were about getting the players physically fit. However, as the season went on, the practices were focussed more on building endurance and constructing defensive plays.The team is now preparing for their quarter final matches.